VoiceChoice TM  

P
atented technology for patient-driven fitting of hearing aids
Developed for OTC Self-Fitting hearing aids, the method uses intuitive interface to automatically obtain amplification parameters from the user preferences. Paired comparisons are performed in speech domain only – avoiding stigmatizing diagnostics by technical signals.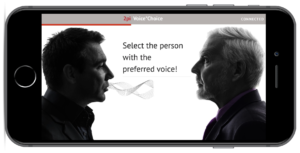 Blocks of VoiceChoice technology:
Patented VoiceChoice app with learning algorithm
BLE-conectivity including MFi audio streaming from iPhone
Advanced hearing aid firmware
System integration
Support in regulatory and clinical matter
Designed for patient-driven fitting of hearing devices, VoiceChoice is a foundation for OTC products, but also for fine tuning of traditionally fitted hearing aid.
In a way, hearing aids are like glasses: in order to achieve optimum clarity, you need your own, individualized prescription. With our patented procedure, fitting your own hearing aid is as easy as comparing prescription glasses. Instead of comparing printed text on an eye chart – you will be comparing the voices of different speakers.
Automated Paired Comparison Routine
The fitting procedure, using a sophisticated learning algorithm that is trained with your own preferences,  selects  the amplification parameters that optimally compensate your individual hearing impairment, resulting in the most desirable speech perception.
The Two Pi Self-Fit procedure concludes with a final updating of the amplification parameters of your hearing aids. They are immediately ready for use.
This Self-fit method combines the simplicity of classic paired comparison methods with the sophistication of advanced machine-learning technologies. By also combining both video and audio stimuli, the interactive interface reduces cognitive effort during fitting. The procedure can be repeated by the user at any time during the acclimatization and rehabilitation process – ensuring optimal hearing experience over long periods of use.
Ready for OTC!
Because the Two Pi Self-fit routine is simple and non-stigmatizing, it gives users complete ownership of the prescriptive procedure.
As each step in the fitting process brings increased user benefits, the instant gratification of better hearing turns this clinically proven procedure into a simple yet stimulating game.