The Face of your Hearing Aid
Traverso is the signal processing technology that interacts with the user and helps to hear better. It is intuitively simple yet scientifically profound basis for BLE-connected (Bluetooth Low Energy) hearing healthcare products. Traverso is designed to bridge evident benefits of medical-grade hearing healthcare with the simplicity of using and dispensing consumer products. Traverso supports several HW options (BLE and DSP circuits) and covers product categories of »hearables«, OTC (Over- the-Counter) listening devices and, of course, medically regulated hearing aids.
System topography – BLE link operates data services between Smart Device and Hearing Device. Building upon this robust connection an audiology oriented API (Application Programming Interface) is designed. More than 100 carefully constructed control functions turn Traverso into a seamless extension of human hearing. 
Audiology-to-go
To give a boost to the user's hearing capacity signal processor simultaneously runs up to ten selected algorithms – Traverso's medical grade signal processing SWIFT 3.0, is market-proven in many homologated, regulatory approved medical devices. Signal processing fulfills standardized specifications for validation of hearing aids: ANSI S3.22 and IEC 60118. Features include:
¬ Speech-centered WDRC
¬ ACO – Acoustic Comfort Optimization
¬ Adaptive Directional Hearing
¬ WNX – Wind Noise Cancellation
¬ Background Noise Reduction
¬ FBX – Feedback Cancellation
¬ Automatic Mode Pilot 
For detailed information have a look under:
Swift 3.0 algorithms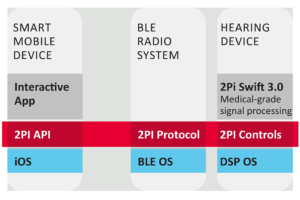 Smooth UX
User Experience for Immediate Aural Satisfaction
Traverso API provides dedicated functions for in-situ diagnostics, self-fitting and smart control of hearing devices. Around those functions, a range of user scenarios can be developed. Here some examples for patient-facing applications…
Immediate selection of sound profiles:  App with selection interface allows immediate testing of a particular profile. The pre-selected profiles correspond to hearing aid prescription for standardized audiograms (IEC 60118-15) and statistically cover a large portion of mild and moderate hearing losses. An evaluation speech is streamed from the app to support user's assessment of the profile.
Screening and In-situ Diagnostics:  In-situ stimuli can provide high-precision estimation for thresholds, loudness scaling or speech recognition score. A proprietary diagnostic procedure can be rapidly implemented in an interactive story board to complete a self-fitting device for alternative delivery.
Import of diagnostics or prescription data:  Hearing aid can be personalized according to profiles from one of the popular hearing test apps – or from any audiogram obtained elsewhere.
Fine tuning by interactive paired comparisons:  Combining pre-processing and streaming of audio data simulates the processing in the hearing aid. Presentation of such stimuli and an interactive response from the listener can improve the initial prescription and increase the benefit of the hearing aid.